Dependable Security Services
Physical Security Services for the Workplace
Every workplace can become a scene of violent behavior, security breaches, and chaos. For that reason, many companies choose to hire Tx2 Security Group to provide private office security guards. Our office security services help you maintain order among employees, visitors, and vendors to ensure you have the necessary policies and procedures in place. Trust our years of experience to keep your office building more secure. Contact our team members now to discuss physical security measures for your office building.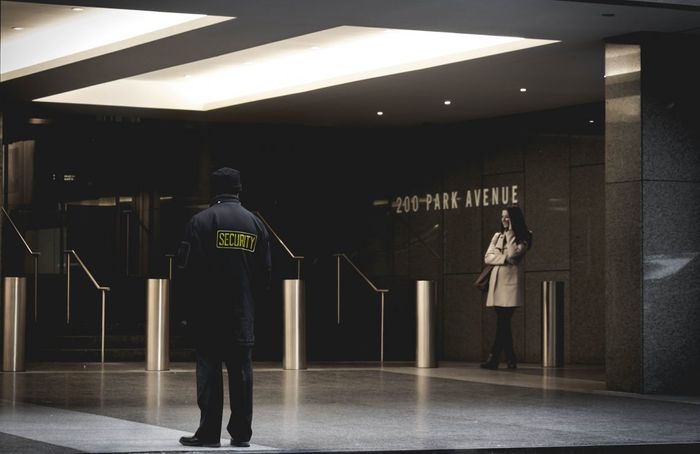 Security Measures to in the Workplace
Have you ever felt as if your company might have safety gaps? Tx2 Security can help bridge those areas of concern with a team of professional security consultants.
Our office security guards treat their roles as an extension of your safety rules and regulations. We can even liaise with local law enforcement entities when necessary. Protect everyone on your team with assistance from our security professionals. Learn more about the many ways our office security service can give your company a competitive advantage.
Employee Termination and Workplace Violence Consulting
According to data accumulated by the Bureau of Labor Statistics, workplace violence is among the top reasons for fatalities and injuries on the job. Consequently, preventing foreseeable or possible workplace violence is an essential duty of every contemporary employer. One of the biggest sources of potential problems is when one or more workers are terminated.
When employees are fired, they sometimes take out their anger and embarrassment in volatile, unpredictable ways. Be ready for any possibilities by planning ahead and hiring security for employee termination events. Our armed office security personnel will help maintain the peace at your office, ensuring that you stay on top of any threats.
The more proactive you can be when facing an employee termination, especially if the worker has a history of acting out or making poor behavioral decisions, the safer your workplace will be.
Security Risk Assessments for Your Business
Could your business be at risk without you realizing it? Many clients of Tx2 Security Group ask us to conduct workplace security threat assessments. These assessments identify problems that could potentially be solved by hiring an office security company.
What are some of the security threats that require a crisis management plan?
Storing valuable merchandise and equipment on site.
Having numerous exits and entrances that are easily accessed from the outside.
Having a constant flow of people coming in and out of the building.
Undergoing mass layoffs or the termination of an angry employee.
Being the target of an angry public due to a recent event that soured the business's reputation.
Receiving threats from fired workers or anonymous sources.
By having unparalleled security planning for your office that everyone can see and experience, you reduce the likelihood of an act of workplace violence. If the unthinkable does happen, your armed office security officer can take practical measures based on experience and training. Contact Tx2 Security today to get started with a risk and vulnerability assessment for your workplace.
Ensuring Safety and Security in the Workplace
Just the presence of an office security guard can temper the threat of workplace violence and negative behaviors. Each one of our security officers is prepared to become the face of safety and order at your workspace. This sends a strong message to current and potential employees and clients that you value them and want to protect your people. Plus, you get the asset protection security service you deserve.
Contact Tx2 Security Group to talk more about preventing workplace violence and asset loss through security at your office.


We Specialize In All Of Your Private Security Needs